S.K. Keogh
Another Real Life Inspiration
A few blog posts ago, I talked about how the infamous real life pirate Blackbeard inspired an aspect of one of my major characters, James Logan, in my Jack Mallory Chronicles. Logan, like Blackbeard, lived a double life--a civilized man on land (for a time) and a frightening rogue at sea. Blackbeard was not the only factual pirate who influenced an aspect of my stories. There was also Stede Bonnet, a much different pirate than Blackbeard, yet once sailing in cahoots with the more famous buccaneer.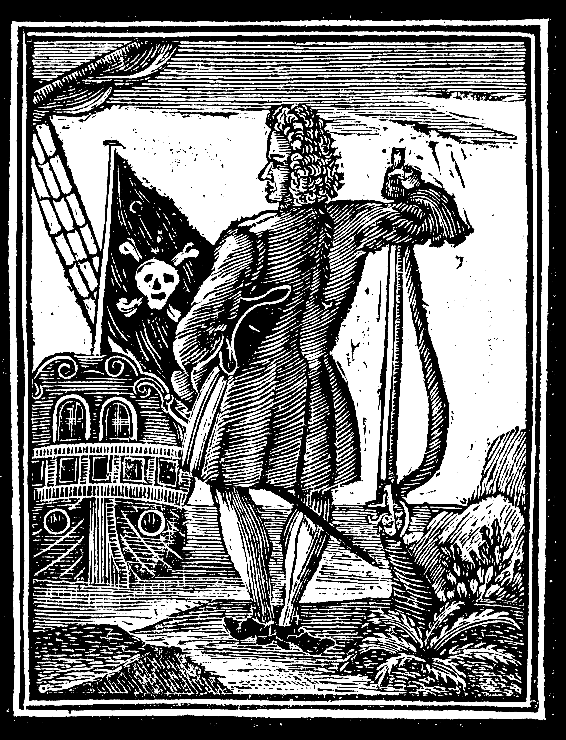 Unlike Blackbeard, aka Edward Teach, Bonnet was a true gentleman, born into a wealthy family. 1717 found him living in Bridgetown, Barbados. He was no spring chicken, either, having served in the Barbadian military and rising to the rank of major before retiring. No one really knows why a gentleman of ease and more advanced age than most sea raiders decided to "go on the account," as pirating was sometimes described. Some suggest marital problems or a mental health issue, or perhaps a little of both. Whatever the reason, Bonnet used his wealth to procure a sailing vessel and crew. The fact that he knew nothing when it came to seamanship didn't stop him from setting sail for pillage and plunder.
For more than a year, Bonnet attacked shipping up and down the Atlantic coast of colonial America. He fell in briefly with Blackbeard and his men, but the partnership was a rocky one, and Bonnet was relieved when they split.
In September 1718, Colonel William Rhett, Receiver-General of the province of Carolina, was commissioned to hunt down Stede Bonnet and another infamous pirate, Charles Vane. While Vane eluded Rhett, Bonnet was not so lucky. When his vessel and its consort ran aground at the mouth of the Cape Fear River, a spirited battle ensued with Rhett's two vessels, which had also run aground. The confrontation ended with the pirates surrendering to Rhett and being transported to Charles Town (modern-day Charleston, South Carolina) to stand trial.
This is where Bonnet's story provided me with an inspiration for a similar predicament my Jack Mallory finds himself in. In my third novel, The Fortune, Jack, like Bonnet, is arrested for piracy and held in Charles Town, awaiting trial. Charles Town lacked a jail both during the late 1600's, when my stories take place, and into the early 1700s. Bonnet and his men were held in the public watch-house. But the provost-marshal, Captain Nathaniel Partridge, had pity on Bonnet, knowing he was socially a cut above a common pirate, and took him into his home, posting guards at the doors.
In Shirley Carter Hughson's book Blackbeard and the Carolina Pirates, she writes, "When one considers the repeated and flagrant outrages which had been perpetrated upon the Province, and upon the port of Charles Town especially, by Bonnet and his fellows, it is hard to believe that these men could have found friends in the city; but to the shame of the people such a fact must be recorded." Three days before Bonnet's October trial date, those nefarious friends of his plied the guards with gold, and he escaped from Partridge's home.
While writing The Fortune, I knew I needed to find a way for Jack to escape his captors. Bonnet provided the inspiration behind my solution. Instead of the provost-marshal, Jack's first ally was his step-father's attorney in Charles Town, who takes Jack into his home under guard. At a supper party held in his honor, Jack is introduced to several prominent citizens of the town, all friends of his step-father. Also among them is Ezra Archer, a local plantation owner and former partner of Jack's step-father, James Logan.
I don't want to give away too much from the story, but, like Bonnet, Jack's allies help him find freedom once again. Bonnet, however, found his freedom to be short-lived; he was hunted down on nearby Sullivan's Island and was eventually hanged for piracy.